Jun. 2012 1
30 Days – 30 Heels – 30 DIYs">30 Days – 30 Heels – 30 DIYs
***I have no idea why my title bar is putting the name twice. Sorry!***
There is a particular gene in my family that seems to have been passed down from generation to generation to some degree. It's the over shopping gene. My grandma was the worst offender. Hording things like Aladdin laps, crystal, ornaments, and cake decorating supplies. My aunt was a close second buying multiple pairs at a time (we're talking like 10) of anything she liked from shoes to shorts to survival gear. Even my mom, who barely shows signs of it, has been known to have "soldiers" of ketchup and salad dressing in the pantry and multiple cheesecakes in the freezer. I always thought I was completely free of this gene. I only buy what I need right? What I use. Well the other day Vlad and I came back from a shopping trip to DSW. I stood in front of my shoe closet (don't hate) with three new boxes of shoes and no room to put them. I have a shoe problem. It's clear now. After a day or two of panic attacks about this revelation and listening to Vlad make fun of me for my weakness, I began to think: I really do wear all of them. So to finally put myself at ease and stifle that voice that says "you never wear those" I set out to do a shoe project. Since Vlad is responsible for almost half of my shoe collection (and yes, he has amazing taste), I figured he would be a key factor in this project. I'm aiming to wear a different heel everyday, for 30 days and Vlad is going to pick which shoe for which day. I may never be able to justify a need for all my shoes, but at least I can prove I use them.
As a bonus addition to the challenge, I've decided to wear at least 1 DIY piece a day. This could get tricky! I'll post links to the associated tutorial on the given day. Let's have fun with this experiment!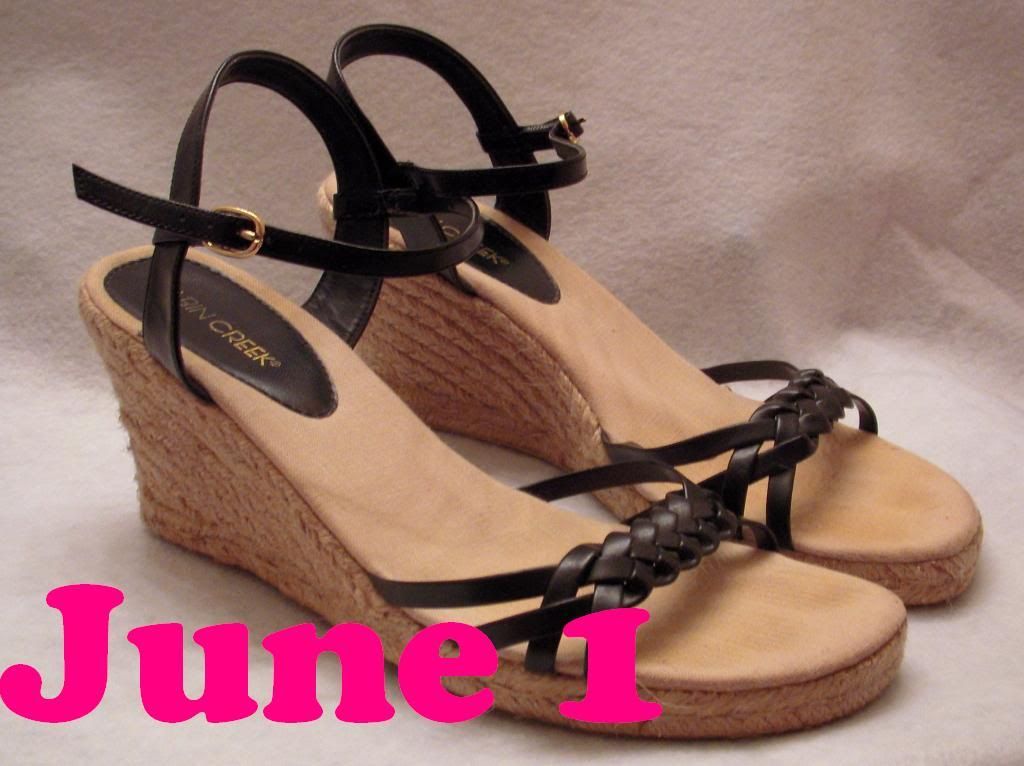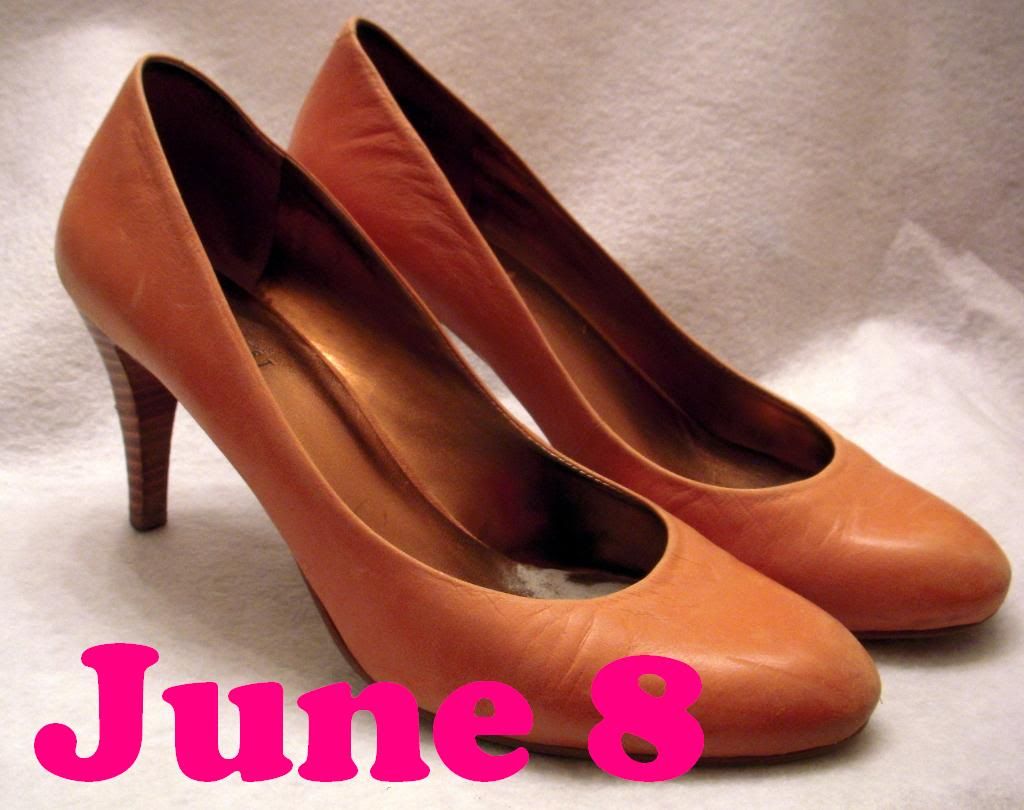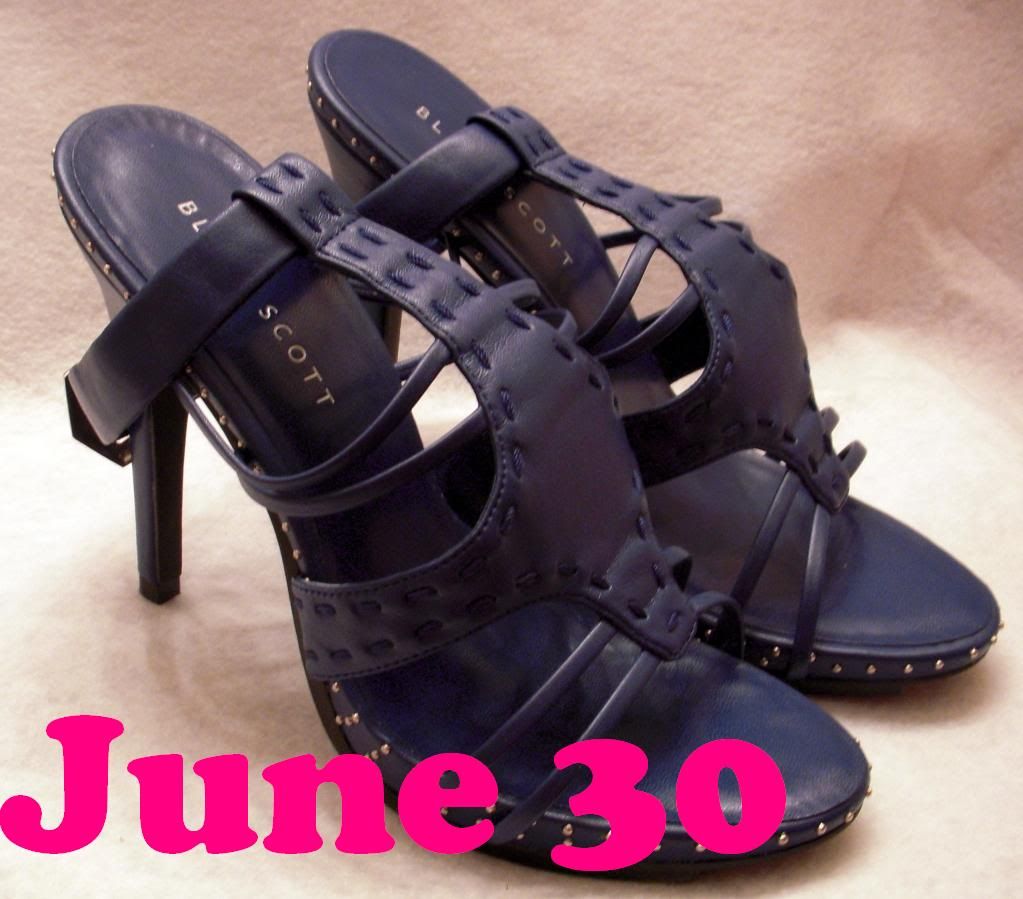 Day 1
Cabin Creek black wedges and the Feather Belt
Day 2: Nine West olive wedges & lace top
Day 3: Gunmetal gray Nine West pumps. They are my go-to work shoes, so it was fun to figure out how to wear them for the weekend. I paired them with my awesome purple pants and the woven bead necklace:
Day 4: I'm getting into the flow now. It's Monday so it's back to work. Today I've paired my Moda Spana black square toe pumps with my black and white obi belt. I though going all black and white would make for a good look. I took the picture at 6:20am, so give me some credit
 Day 5: I totally forgot to post! Oh well. I took the inspiration for this outfit from a picture of KStew that I saw. Rocked the gray peg-leg pants with the yellow sandals.
Day 6: My feet are now starting to feel tired. I made the mistake yesterday of walking a distance to a meeting I had. Ouch, my toes hurt! Anyways. Today I wore 2 DIYs: Green Safari Dress and there Fabric Flowers. I paired them with my BCBG tan and coral sandals.
Day 7: My toes hurt today! Oh well, nothing some band-aids won't fix. Anyways this time paired my brown loaders by Aerosole with a navy dress, brown striped sweater and my ribbon & chain necklace.
Day 8: Sorry the picture is from my phone, but I came home and immidiately went into all out sewing mode and didn't take a new picture. Anyways, for today's outfit I paired my favorite Nine West shoes (camel) with my awesome orange flower necklace. So enjoy
Day 9: Grilling fish tacos in my fabulous Aerosole wedges and my tube top dress. Happy weekend everybody!
Day 10: Tonight was date night and Vlad and I went out to Sticky Rice in DC. I went for a fun casual look pairing my sky-high Naughty Monkey sandals with a jean skirt, t-shirt, and my white jersey necklace.
Day 11: It's back to work, no more weekend fun.. Today's shoe is a black Loafer by Aerosoles. I paired it with a fav of mine: my button belt
Day 12: Sadly, this outfit did not photograph nearly as well as it looked in person. It was raining outside, so the natural light was low. Anyways, today I rocked my most favorite shoe: My red Van Elis. I just love them. They maybe one of the most expensive shoes I own, but they were so worth it. I also wore my bib necklace, which always draws major compliments
Day 13: Today I paired a more recent tutorial: my T-shirt dress for work, with these awesome purple pumps. I got them at JCPennys for $12! Funny side note, my sister has the same pair in pink.
Day 14: Today I wore my wide leg pants (jersey) with a cute summer cardigan and my gray plaid shoes.
Day 15: I actually skipped Friday, and wore this for the first half of Saturday. Vlad and I went to Baltimore for a Stay-cation (details to follow!) and we went to the aquarium. I wore my favorite dress: Dita Von Teese Wrap dress with my Nine West Sandals

Day 16:
This is actually my night/going out look. We went to dinner and grabbed some drinks at the Harbor and had a blast. I left my camera in the car, so a cell phone pic will have to do. I wore my ruffle suspenders, lace shorts and the dope shoes by Lovely People. It was very Jackson-style if you will
Day 17: I actually skipped today. I'm going to do a double post later this week to make up for it, I promise!
Day 18: Today I did a double: 2 different looks using the same shoes/DIY combo. The first is my work outfit, and the second is the one I wore out to dinner with my folks.
Day 19:
Swirl dress!! I love this dress and this is surprisingly the first time I've gotten to wear it. I wore my black Aerosoles Booties, and a cardigan (because my office is freezing!!)
Day 20:  Today I rocked a version of the Maxi/Midi tutorial. I made it shorter so when I wear it as a skirt it's about midway between the knee and floor. Anyways, I went for the whole black and white all over look with my favorite pair of Naughty Monkeys. They are black with strips of zebra on the toes and black and cream stripes on the heels.
Day 21: This is the problem with taking photos indoors: these are actually navy blue shoes and a navy blue top. But it looks black! Anyways… These are my navy Vaneli pump which are amazingly comfy shoes. I rocked my sailboat skirt, which is a favorite of mine. Don't forget there are tutorials that go along with each day!
Day 17 (Revisited!) Like I said, I skipped Sunday. We were too busy making phone calls to our friends and family about our engagement that I had no time to get dressed up. But I opted to do a double post for Thursday. I went out with my two best friends Caroline and Meghan for wine and cheese and I wore my Coral Naturalizers (peep toes) with the Cabana dress
Day 22: Thank goodness it's Friday!!!! And by the way, for those who don't know it, it's 100 degrees in DC. It's so freaking hot, but I'm way happier than if it were freezing
So for work today I did 2 DIYs: The black and white dress and the ribbon belt. I wore my Naturalizer pumps in Black Python.
Day 23: Tonight a group of us headed into DC to hit up Masa14. I wore the Easy Breezy Caftan, the purple tank top dress underneath, and my strappy nine west sandals. I love these shoes! They are so hot and I got them for such a great deal. Unfortunately, they didn't last too long and I changed in to flip flops
Day 25: Yes, i missed Sunday again…oh well.
Anyways today I did my tulip skirt, lace Naturalizer pumps and pink sweater shirt. I was going for the whole "romantic" look
Day 26: The pictures so did not turn out awesome, but this is my Pants-to-Pencil-Skirt Tutorial with my Nine West Mary Jane. As a fun side note, those are the first shoes Vlad ever bought me
Day 27:
Love this top! It's the off the shoulder top, with a cardigan over it. I wore my black and gray Naturalizer peep toe pumps with the outfit.
Day 28: My favorite outfit yet! It's the leather neck dress (which I don't have a tutorial for just yet, but i will soon) and my plain black pumps.
Day 29: We are almost done! It wasn't until after I took the picture that I realized how similar this outfit was to day 7. Oh well! Today was the Python Pumps by Naturalizer and the Men's Shirt-to-Skirt tutorial.
"Day 24″: Well I missed last Sunday, so this is a make up outfit. I love this hot pink dress I made  few years ago. I wore it as a bathing suit cover up and matched it up with my white Naturalizer wedges. Fun in the sun!
Day 30! It's the last day of 30Heels-30DIYs-30Days! So sad. For the final day I thought I'd give a sneak peak of the up coming tutorial for this week. I've been so busy that I missed putting out one this last week! So keep your eye out for the black t-shirt dress with cut out back. It's fun and sexy, what's not to love. I wore my Blue Blake Scott strappy sandals that have a bit of a rock star look to them.
3 Responses to "30 Days – 30 Heels – 30 DIYs"