Jun. 2010 2
Vest from an Old pair of Work Pants
OK, it's now June which means it's not longer Paper Craft Month. So time to get back to some sewing projects!
First, let me take a second to thank Cheri from I Am Momma Hear Me Roar.  When I first started blogging I sent out some emails to people who ran the sites I admired asking them for some advice. She was really great and mentioned that I really need to take out door pictures so my projects look better. So, I took her advise, and here is my first post with beautiful new pictures taken by my boyfriend who was nice enough to help. I'm also going to go back and add pictures to a couple older post.
Moving on…
So, I recently cleaned out my closet and got rid of a bunch of items that no longer fit. I kept some of them in hopes to make new clothes that I could wear to work. In this case, I made a crop vest from a pair of pin-stripe pants and some left over black satin. I actually really love this vest and plan to make another one in another color.
How I did it:
I don't have a tutorial this week, but I'll walk you through the basics. I did most of the work for the vest by draping it on my mannequin. I don't know much about pattern making, so I'm still just figuring it out as I go. I figured out the max width any fabric panel could be by tracing the pant leg on to muslin. This way I wouldn't get stuck with random seams. I knew I wanted an exaggerated racer back, almost a T-back. So once I got that laid out I draped the front. I left most of it fairly loose. The only real tight seaming was over the bust so that it would contour nicely.
I finished it off with fake pockets, which I love love love. And I also used these really great buttons that remind me of hubcaps. I got (stole) these from my mom a while back (thanks mom) and have been waiting for the right project to use them. I actually use a set of "fake" buttons as well. I wanted the fronts of each side (left and right) to look the same. So I put the hubcap buttons on the outer edge and button holes inside that. On the right hand side, I put buttons on the inside of the vest. This way it could button with 4 buttons, but only 2 of which are showing.
Some more pictures!
Link Parties for this post: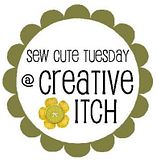 4 Responses to "Vest from an Old pair of Work Pants"